Day 32 of my cycle journey – June 1, 2022
On a sunny day with the occasional rain shower, I cycled through the delta of the great river Vistula, the most Polish of all of Poland's rivers, along some of its side-branches. Lovely cycling along the river, with old wooden houses giving a glimpse of times long past and the typical delta fauna and flora. Cycling for 66km, I reached a campground with an epic view and spent the evening with a Czech motorcycle gang.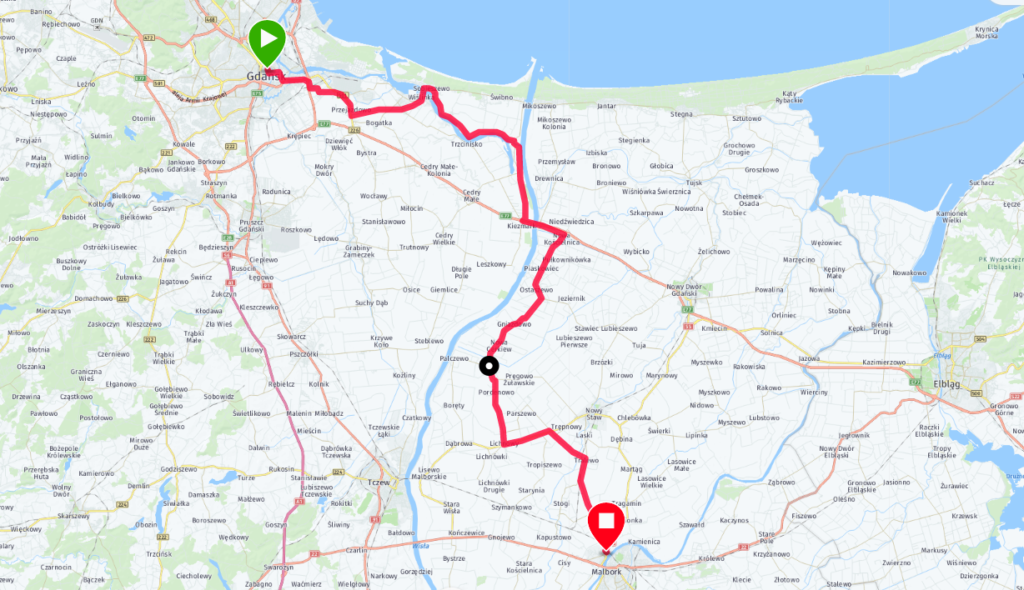 After having been on the road for one full month I felt great and ready to find new things to see, roads to cycle and people to talk to. Although I regretted to leave Gdansk, so much still to see and experience here, I was looking forward to seeing my newest destination: Malbork. I set off after a leisurely breakfast, because I knew that my destination is only 66 km away and that the area I am cycling through is flat as a pancake, with no other challenge than the weather and my navigational proficiency, or the lack thereof.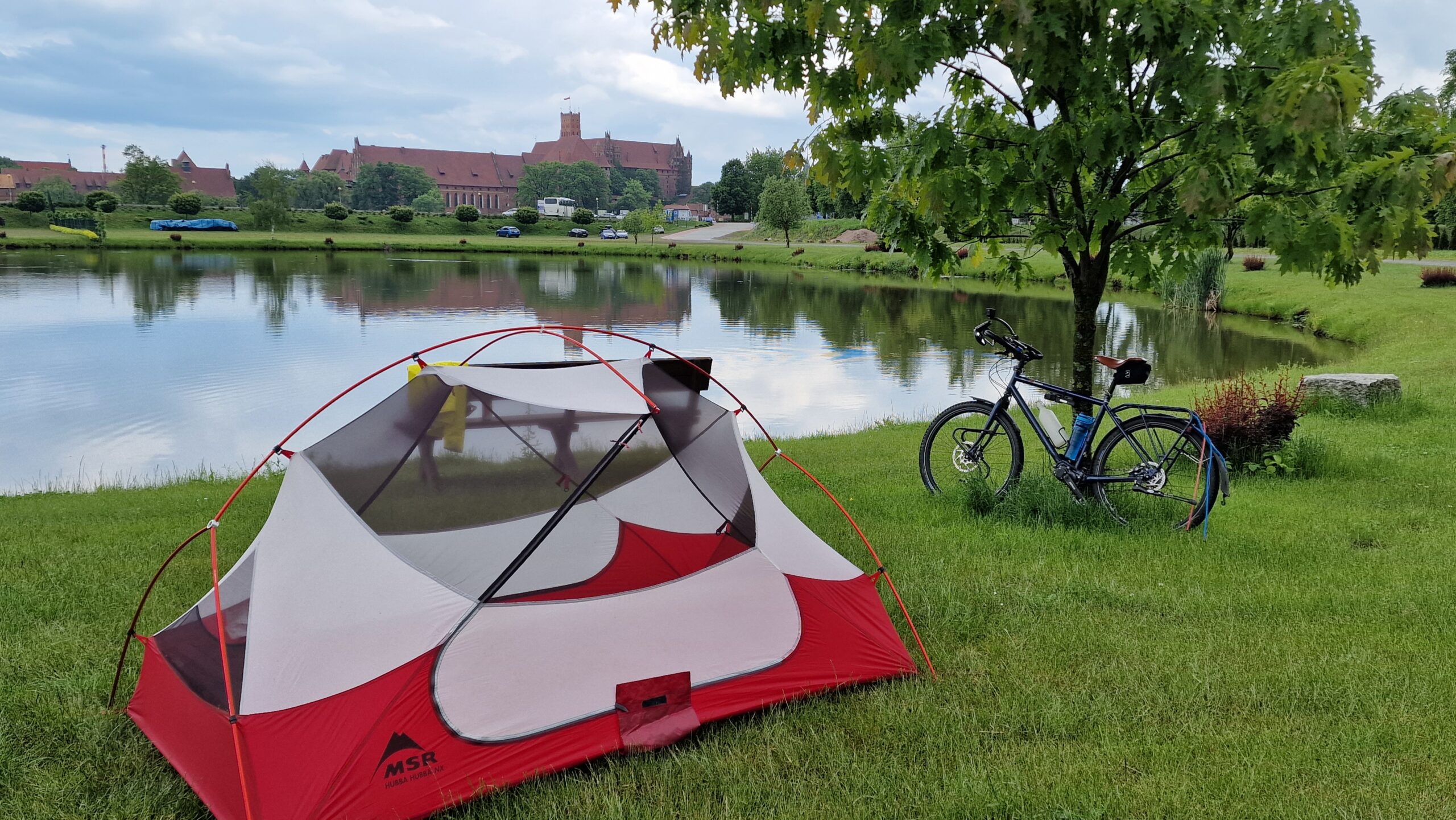 As predicted the cycling was easy and enjoyable. Many waterbirds could be observed along the Vistula and Nogat rivers (Vistula side-branch). The occasional lock for ships to overcome the minimal heights differences in the river flow were interesting technological sights to be investigated. Part of the way I was cycling on the dyke, which has the function to limit the inundation area in case of floodings. Beautiful cycling all day. When coming through some of the little villages, there were always nice and interesting old wooden houses to see. Still occupied they gave a glimpse on how people lived here 150-200 years ago. I love old wooden houses and here I found a trove of architectural gems. Perhaps the biggest of all these architectural gems was waiting for me at the end of my trip that day, the castle/fortress/monastery Malbork.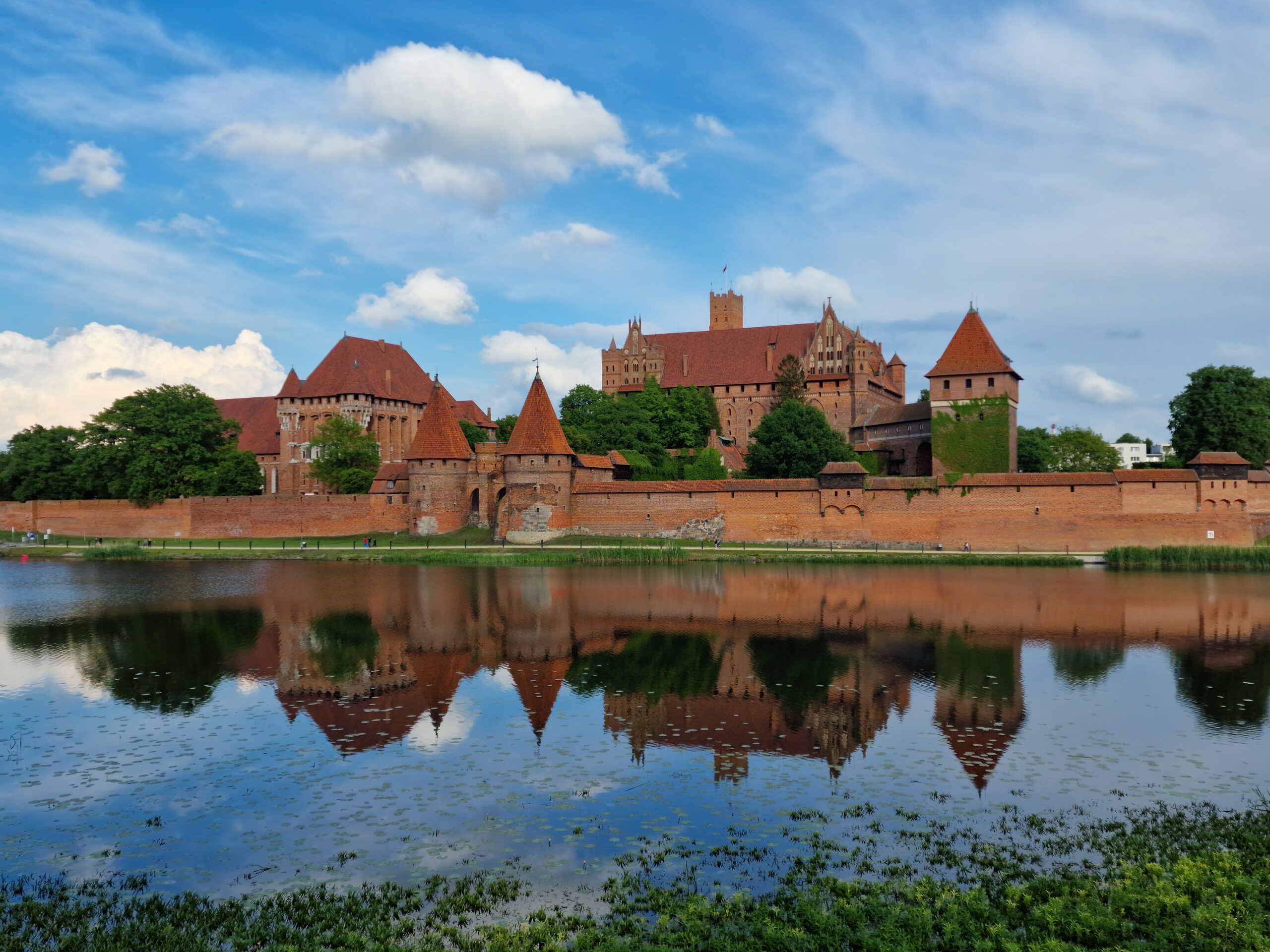 I arrived at 15:00 h in Malbork and went directly to the campground where I planned to stay the night. I had already decided that I would visit the castle in the morning of the next day to have adequate time to see it. On the campground I was blown away by the view. The place where I was planning to set up my tent had an uninterrupted view of the castle. Simply superb. I set up my tent besides the camo of a motorcycle gang which had already put up their tents and were looking after their Harleys and other machines. When I was finished setting up my own they waved to me and invited me over to their set-up. They were three kind Czech motorcyclists, a retired dad with his two sons, who made a Poland trip to see the country. We talked in a mixture of English and German and had a great time telling stories from the road and discussed in particular the benefits of having a Latin nomenclature for plants and animals. Alone by this topic one can determine that there was more than one beer involved in the proceedings of the evening. We were sitting at a sheltered picnic table when the skies opened up and a fat and heavy rain came down. In wonder, we looked over the little campground pond towards the castle and saw a perfect rainbow over it. You know what they say, there is treasure at the end of a rainbow.