The prediction for a completely rainy day luckily didn't materialize, but nevertheless dictated my daily programme and let me decide to shorten my cycling day. I cycled from Goldap to Wegorzewo, 54 km, on an overcast sky, which showed signs of breaking bad all day.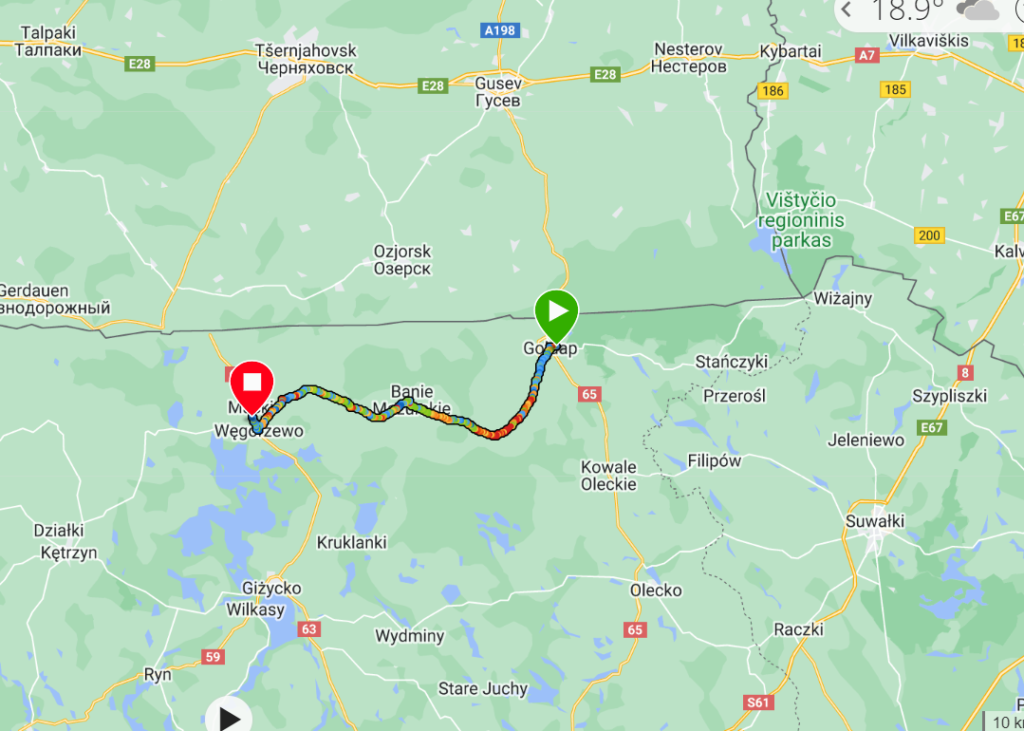 When I looked at the weather app I use the day before I was getting scared. Rain, rain and rain was predicted to come down on me and the rest of northern Poland for the next 3-6 days. It was looking bleak, indeed, and I thought that I would be facing my first test of perseverance during this trip. How would I mentally survive the streak of adversity. I never liked to cycle in the rain, but then I never had really tried to cycle in the rain. On my trips before, I either was lucky and it didn't rain at all, or it rained for a short period and I decided to sit it out in the tent. An option, which I doubted I could keep up for six days here in northern Poland, with limited supplies and constrained accessibility to shops and communication means.
Before I left this morning, however, I had a phone interview with Helsingin Sanomat, the most respected Finnish newspaper, They had shown a surprisingly keen interest in my plans and undertakings and published major articles about my travel plans in December and April 2021 and 2022, respectively. Now they wanted to conduct a phone interview to see how things are going after almost a month. Dressed in my full raingear and ready to be on Monica the instant the interview is over, I talked to the reporter. As in the cases before, it was a pleasant and very professional interview.
So, I left rather late my B&B and started to cycle on the "Green Velo", a national Polish cycle route through northern Masuria. After a while I wondered why the predicted rain wasn't coming and decided to take the rain trousers and jacket off. Again, the landscape was fantastic. The "Green Velo" at this point runs on an old railway track, which had been converted into a cycle way. Serenely peaceful cycling through the lovely Masurian countryside. At one point, though, I was held up by a farmer with a horse-drawn cart. I could have rung my bell, but it was such a great thing to drive this splendid cycle way after a horse-drawn cart, that I stayed behind and enjoyed the moment imagining being in a time long past. Eventually the driver noticed me, and he made way for me to overtake him and his horse.
I did not stay on the "Green Velo" all day, but also cycled some country highway. Here I must state, that the highways in northern Masuria have completed enchanted me. Most of the time the highways are quite narrow streets with a double line of trees on either side. These trees are most of the time linden trees (Tilia cordata), but sometimes you also find oak and other species lining the avenues. I am a complete fan of these tree-lined highways since the give you the impression of cycling through a living green tunnel, were the wind plays gently with your face and the leaves are all around you. When I am coming back from my trip I will start an initiative in Finland to plant more tree-lined avenues and highways. However, considering of how many trees are around our highways in Finland, I doubt my initiative will be understood completely.
Later in the afternoon the weather started to change for the worst. The wind picked up enormously and was now blowing into my faces with considerable strength. Suddenly, I couldn't enjoy the beautiful and rolling agricultural landscape to the fullest, because I was occupied staying in line and drops started to appear getting me soaked through and through. In Wegorzewo, I bought groceries for my dinner and breakfast and then made it to my rented apartment where I was staying the night. After a great shower, a frugal dinner and a session of washing my dirty clothes I went to bed early.