On an overcast and rainy day, I cycled further through the beautiful areas of Masuria. I got lost and found my path again through mud and sand, and finally saw a place, I didn't want to see in my original plans. Cycling from Wegorzewo to Ketrzyn took a full day, for only 45 km and a multi-hour visit to the "Wolf's Lair", the military command centre of Adolf Hitler.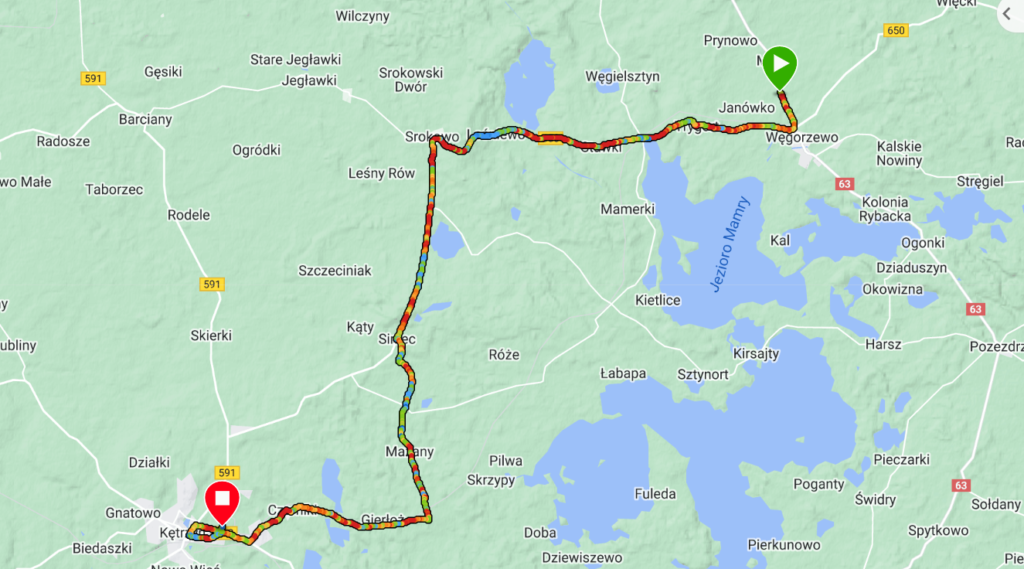 I had been sleeping very well in my little apartment in Wegorzewo but I had to get up and going. I wanted to be in Gdansk on Saturday to see the Champions league final, and to achieve that would require some serious cycling in mainly foul weather. My path brought me to the northern shores of Lake Mamry which is the northern edge of a huge body of water comprising several interlinking lakes. One of the major projects of the German empire before WW I had been to dig a canal between this lake complex and Königsberg (now Kaliningrad). The Masurian Canal had never been finished. Started before WW I, it was later continued, but with WW II the end of the canal project arrived. What is left are huge ruins of locks scattered in the landscape and the rewilded remains of an artificially dug out canal.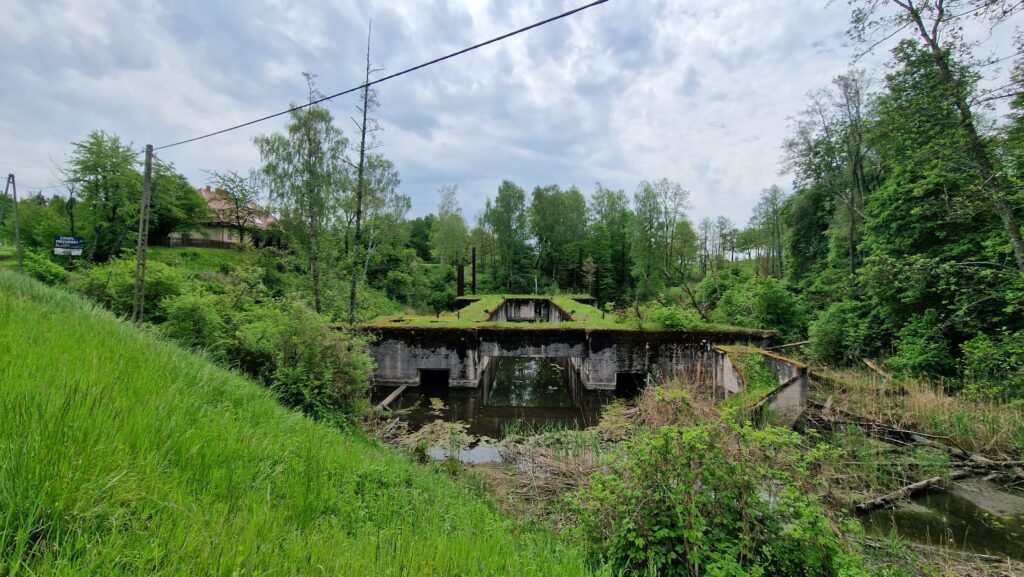 I continued on the road, the weather was ok, I was listening to good music and the cycling was occupying my mind and my thoughts. In a rare moment of clarity, I checked on my position and noted that I had been cycling for over 10 km in the wrong direction. Shoot, what a bummer. I could cycle back, but I hate cycling the same route back. I took a break and investigated my options. There was an alternative, I would have to go via Ketrzyn to Elblag. On the way would be the "Wolf's Lair", Hitlers military headquarter bunker complex, which was also the location of the failed assassination attempt of the 20 July 1944. I decided to do just that and to visit the "Wolf's Lair". To get there I had to navigate some pretty hairy field paths, passing some really sandy single tracks and going through a single track which had been use by cows as a walking trail to their pastures and was consequently just a massive mud hole filled with a semi-liquid melange of earth, urine and manure. Monica complained and finally resisted t go any further through this muck. I had to scrape her main parts clean before she reluctantly went along.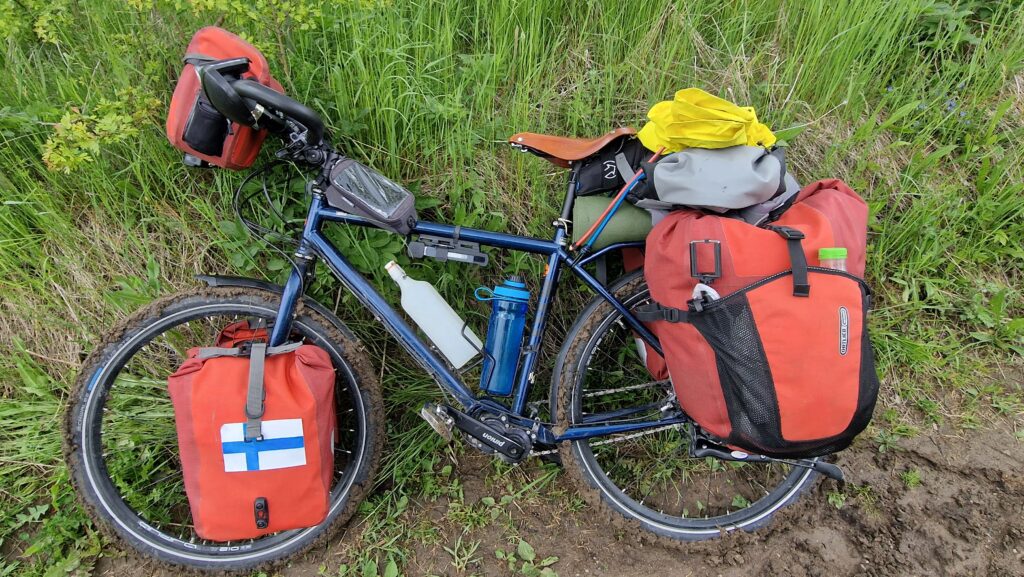 Arriving at the "Wolf's Lair" I was impressed by the enormity of the entire complex, with its own railway station, airport and the enormity of a bunker complex which exceeded all my imaginations. The place had been pretty much blown up by the retreating German forces in January 1945, but the immensity still leaves you wondering. Much was told about the Hitler assassination attempt, which took place here on July 20 1945. I never understood why this assassination attempt was so publicly exulted and the multity of other assassination attempts are almost never mentioned. The people behind the 20th of July attempt were the elite of the "Third Reich" military. They had carried the German war and fully supported the regime. When they saw that all is lost, they wanted to secure their future and their status. This was not resistance to me but an attempt to survive, because they knew what was coming for them. The thousands and thousands of Germans, which died because of their resistance to Hitler and his clique, are almost forgotten and their moral high ground is made inferior to the motives of a bunch of Nazis who wanted to survive. If you want to read about resistance and the price one often paid for resistance in the "Third Reich", you have to read "Every Man Dies Alone" by Hans Fallada.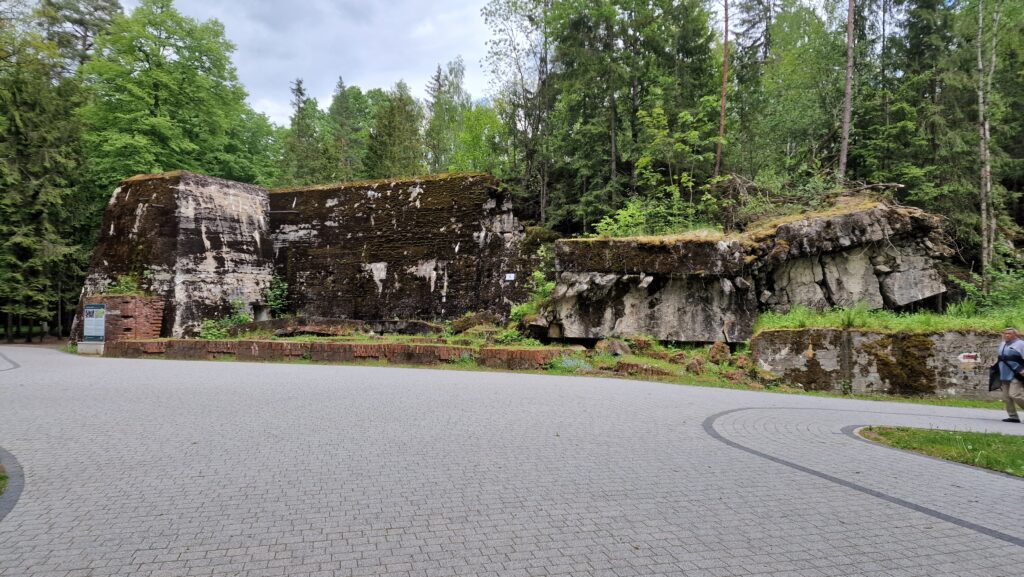 After three hours strolling in rain through the Masurian woods staring at reinforced concrete ruins it was time to cycle to Ketrzyn, where I had booked a room in a cheap hostel. It was time to calm down after my rather emotional afternoon. With this rather long sightseeing trip to the "Wolf's Lair" I had also messed up my time plan for reaching Gdansk on Saturday. I had to watch my football game somewhere else.