Day 98 of my cycling journey around the world – August 7, 2022
In a perfect weather with partly cloudy skies and temperatures around 28 C I started my cycling of the day at the Bella Augusta campground to go south as far as possible. Cycling for 101 kilometres I followed the river Lech, passed the cities of Landsberg and Schongau until I reached end of my day's cycle tour at the campground in Lechbrück.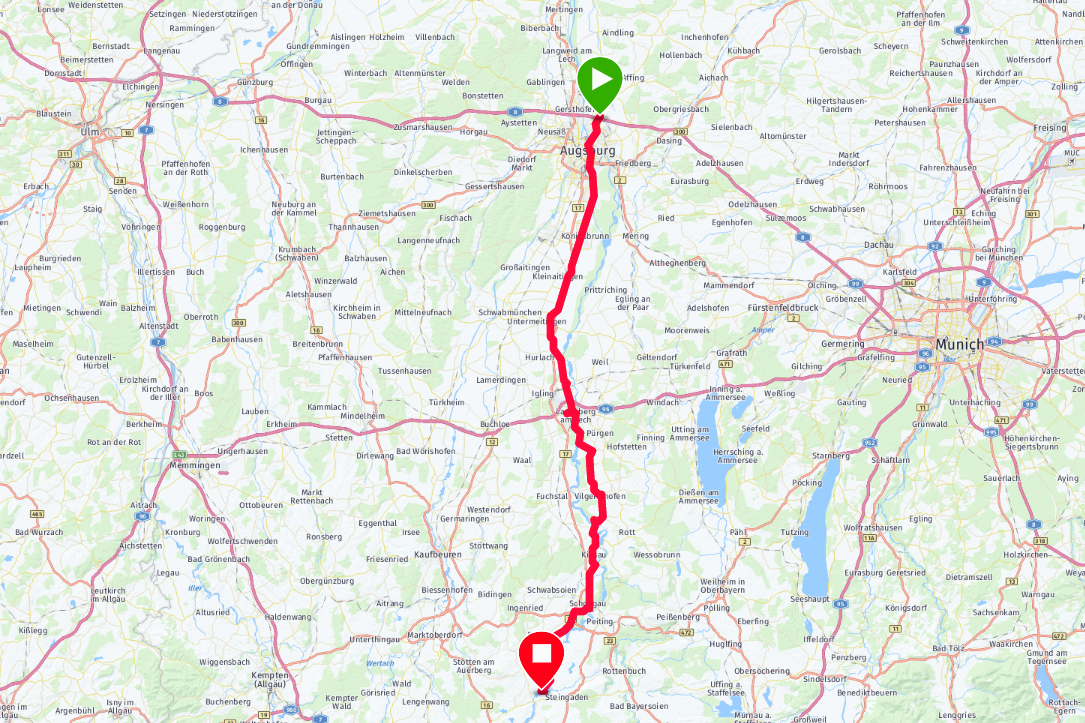 In the morning I had done my plotting for my route to follow. I had planned to cycle as far as possible, perhaps to the town of Füssen, one of the southernmost German cities, only one kilometre from the Austrian border. It is the terminus of the "Romantic Road" of Germany, the one I had followed for some time. The weather would be perfect for cycling not too hot and not too sunny with a slight wind from westerly directions, so not directly bothering me. Leaving the excellent campground Bella Augusta, I knew that the easy cycling days were over. From now on cycling for the big boys would start, cycling up some serious mountains and hills. In short, cycling the Alps. In Augsburg I went to a bakery and bought a huge breakfast to load up on carbohydrates. I would need every kilojoule of energy I could get today. I cycled a little bit inland, not directly at the river Lech. This changed when I reached the city of Landsberg and der Donau. The old town of the city was simply stunning. A medieval dream hardly having changed at all over time. It also has a prison for over a century. Many famous men have been inmates in this prison the most famous ones being Adolf Hitler and Uli Hoeness. Adolf Hitler was an inmate for almost three quarters of a year, the result of his failed coup-d'état of 1923, when he tried to get to power by military means. It is amazing that someone who carried out a putsch, or insurrection, didn't stay longer in prison and then could go on to become head of government by slightly less violent means. The other "famous" inmate, of more recent times, has been Ulli Hoeness footballer and long-time manager of Bayern Munich. He is best known for missing his penalty at the final of the football European championship of 1976 against Czechoslovakia. It is said that the ball he shot into low earth orbit is still on its original trajectory. But that wasn't the reason he had to sit in Landsberg, his crime had been that he didn't pay his taxes – lots of taxes.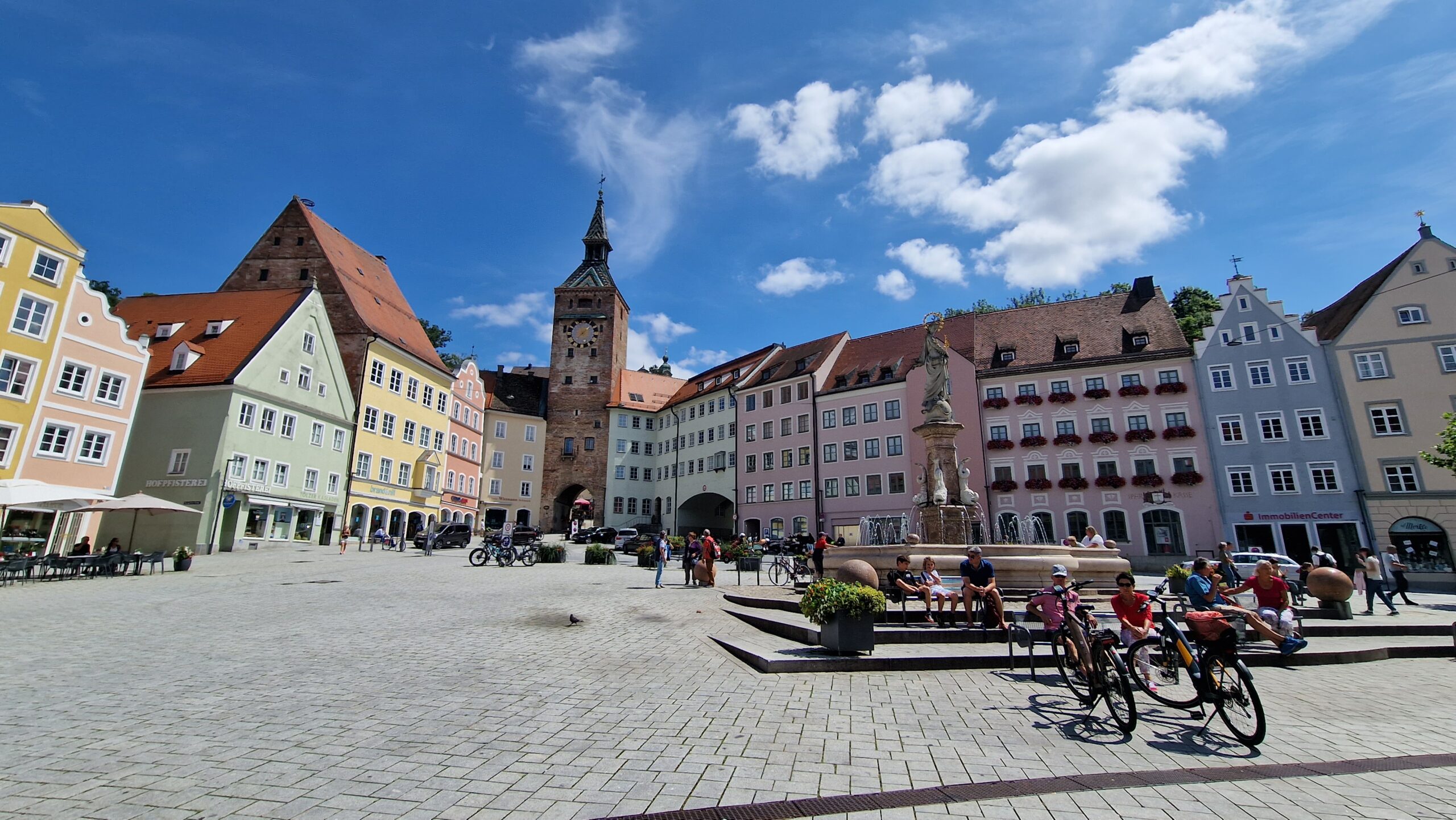 Leaving Landsberg I suddenly had to deal with seriously steep hills. Up and down it went in the foothills of the Alps. Passing Schongau, I saw one of the most amazing things I had seen on this trip until now. Somebody had built into his/her garden an enormously sized model railway. The railway lines were zigzagging through perennial bushes and flowers. Without any doubts the model railway was at least 100 square metres in size. It was fully electrified, and I was wondering how somebody could build that in his/her garden and what will happen when a sudden rain comes. Leaving the trains circle around the plants, I had an ice-cream in Schongau. Contemplating over an ice-cream always brings the most astute decisions. I decided to call it a day and find the next campground where I would settle down for the evening. This campground was still quite a few kilometres away in Lechbrück. Cycling uphill, I suddenly saw the real mountains from my elevated position. Mighty peaks, with a blueish grey colour dominating the horizon. Real mountains which I had been looking forward to but was also fearing. Arriving at the campground, I set up my tent and ate some dinner. A nice Dutch family being opposite me came to enquire about my trip and invited me to a cup of tea. A pleasant evening spent in a tent I could stand in for a change.