Today I locked my first 1000 km of this journey. I hope many more will follow, equally smooth as the first one. Due to the late night talking the evening before, I got up late and got going even later. A cold northern wind pushed me for the second part of the day southwards, past Ventspils and to Jurkalme. Although the wind was helping me to make km, it also sapped my strength away with its ice-cold relentlessness, and I went to bed exhausted and without dinner after 93 km.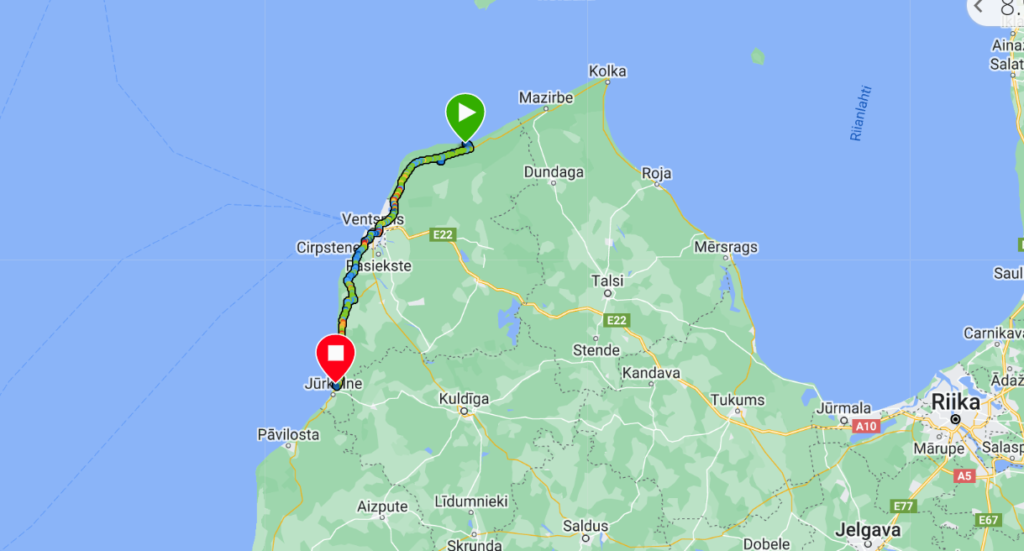 Getting up in the morning was a bit difficult but lying a bit longer in the warm and cosy sleeping bag helped and eventually I turned for the last time and crawled out of the tent into a brilliant morning sun. I had breakfast with my old university friend and soon we said goodbye. He was aiming for the port town of Liepaja, where he would take a ferry to Germany, and me as far south on the P124 as my legs would pedal me. I went south into the direction of Ventspils, when I saw the sign for a radio telescope installation nearby. I always wanted to see a radio telescope and consequently I turned off the highway and followed the sign. Soon an eery and uncomfortable feeling crawled up my spine when I came through a huge deserted and dilapidated housing project, probably originating from Soviet times. I felt like in Pripyat, the deserted city near Chernobyl, and I wondered for the reason why a perfectly good settlement has not been reoccupied when the Soviets left. Was it safe to cycle here? Were there environmental poisons in the surroundings I should be aware of? These were the thoughts tormenting my mind. Soon thereafter, I reached an area which was still occupied, and my worries abated. I was only able to see the radio telescope from afar.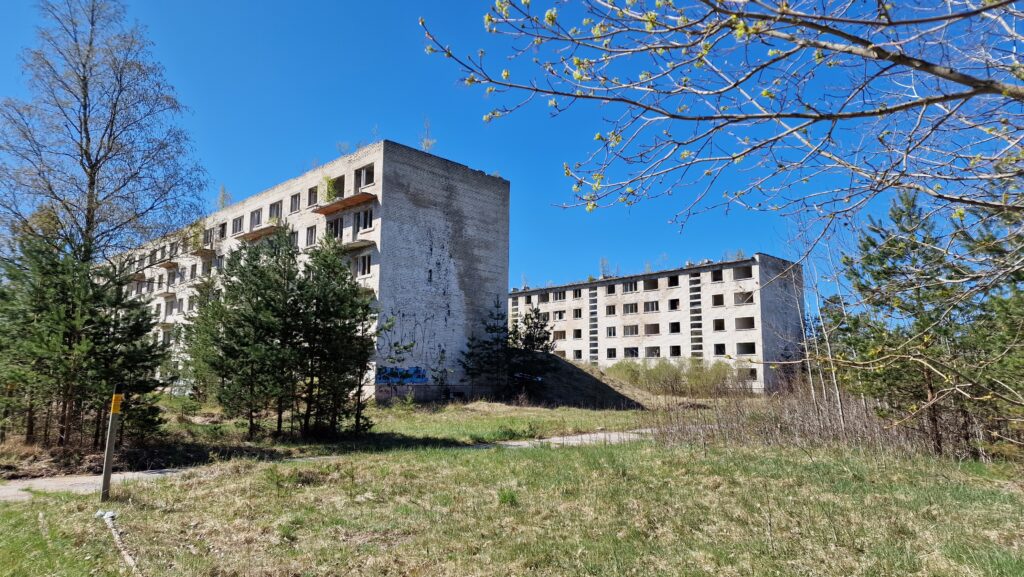 I went further to Ventspils, a big harbour city with a beautiful concert house. The big question came up: do I cycle further or do I stay close to Ventspils. I decided to go further south and take advantage of the wind as long as it lasts. Although, the wind was favourable for the next 20 km it didn't help too much since I hit a gravel road and you can't cycle fast of washboards in the street. The cold wind was draining more and more of my energy away and after 80 km I decided to call it a day and was looking for a campsite. However, this part of Latvia seemed to much denser populated and only after 13 km more I found a commercial camping ground that was open. I called the manager who promised to come soon and that I should erect my tent in the meantime. I waited for an hour in the intensifying ice-cold wind. I was really starting to freeze, but this was compensated when the manager arrived, and she showed me the campground shower. I took a piping hot shower for about 30 minutes before I fell totally drained into my sleeping bag, without dinner, into an exhaustive slumber.