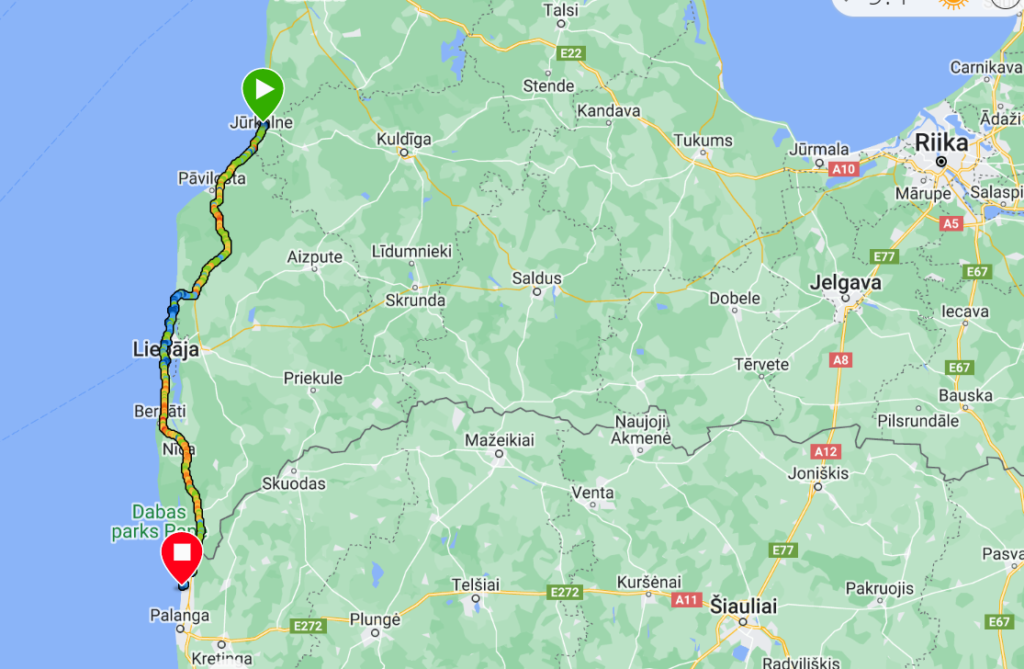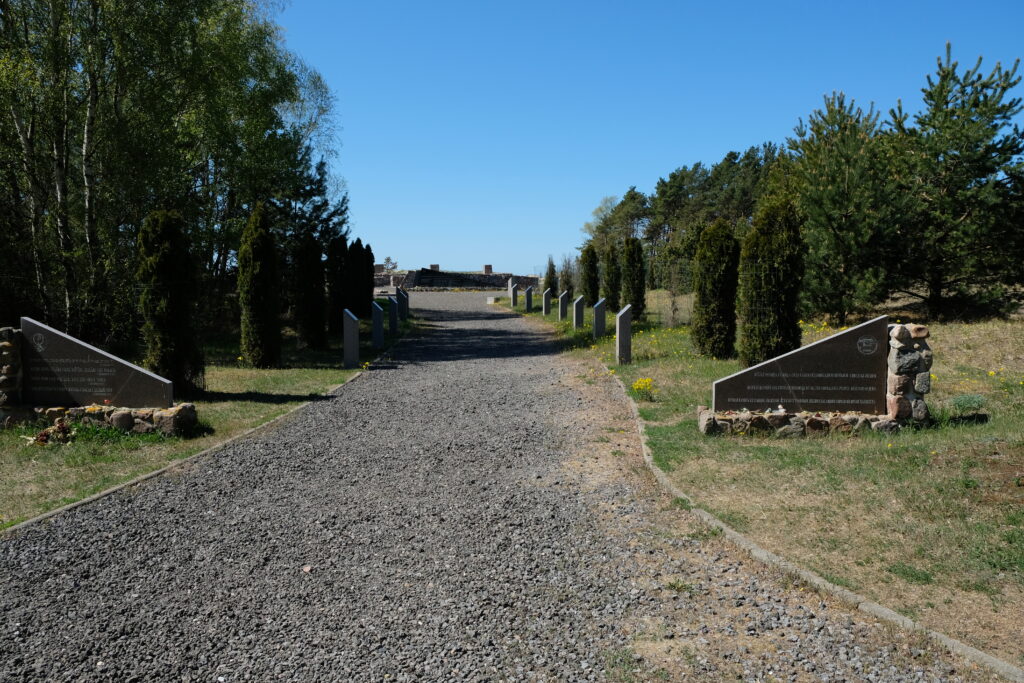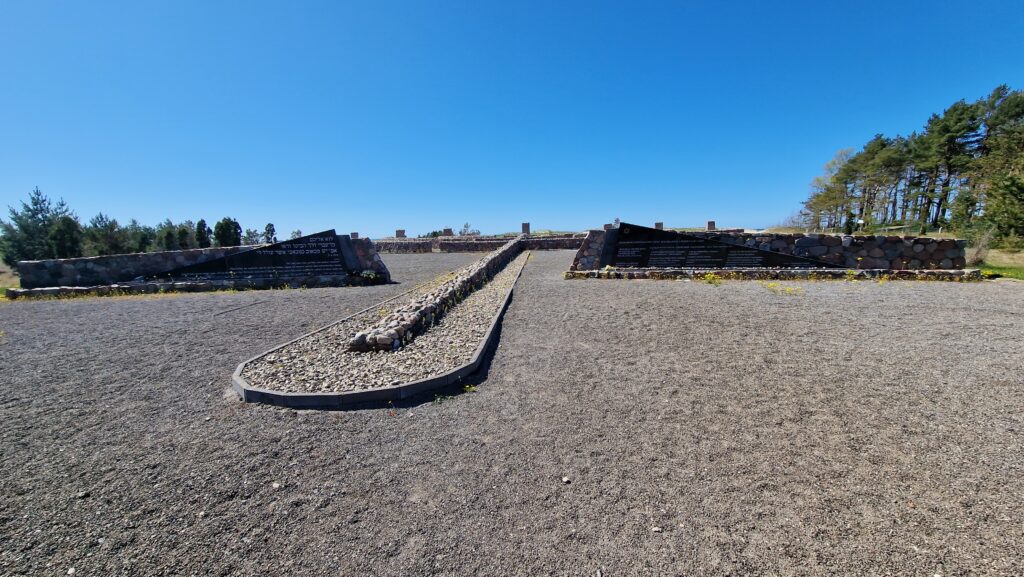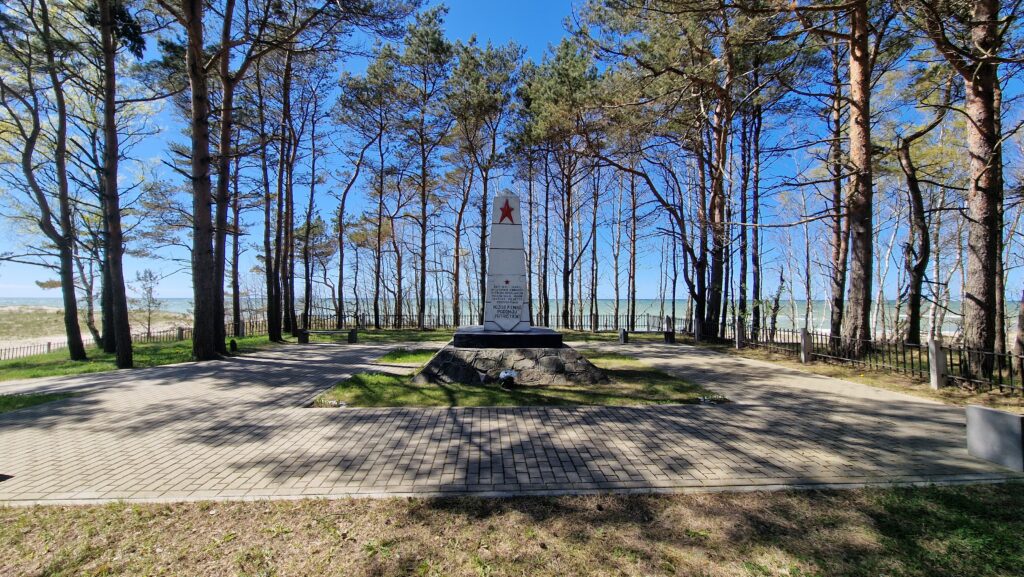 Today I made my all-time touring record. 141 km to the south and crossing the Lithuanian border. Helped by a generous northernly wind I cycled on a sunny day all the way to Palanga in Lithuania.
I didn't sleep very well. During the entire night I occasionally woke up to the howling wind, which relentlessly came in from the seaside and was rattling my rainfly mercilessly. During these moments of wakefulness, I just hoped that I wouldn't have to leave my warm and cosy sleeping bag and tie down the guylines. It gave me also time to think, and my main thought had been that I would have to utilize this strong wind as much as possible since it came from a northerly direction. I decided to skip breakfast, break camp fast and cycle until the hunger would stop me. I fell again asleep knowing I had hatched a good plan.
In the morning, I set my all-time speed record for getting my affairs in order and being on "Monica" pedalling away. My goal was Klaipeda, if possible 185 km, away. Soon I was cruising at 25-30 km an hour, no sweat. I felt great, because cycling at that speed with almost no efforts is invigorating. After about two hours I made a stop to take my breakfast. In no time I reached Liepaja. Cycling in the outskirts of Liepaja I saw a sign indicating a holocaust and WW II memorial. I had to see this and cycled to Shkede and to the coastline dunes where the memorial was located. Thousands of Jews, Soviet POWs and others had been mass executed here. There were two memorials, one by the Liepaja Jewish Heritage Foundation and one by the Soviet Union. One can only feel dejected in the face of the evil barbarism committed here.
Cycling into Liepaja, I saw in my rear mirror another cyclist approaching fast. I steered to the side of the cycle path to let him pass. He, however, didn't want to pass. He wanted to talk, and his favourite subject was God and spreading his gospel. He was a Baptist and just ordained as a priest (if this terminology is proper for Baptists). He told me how he had found God and that he wants to serve him. Unfortunately, our paths split there because I had to cycle in a different direction. He gave me advice on how to continue cycling through Liepaja and then he left. I followed his instructions and was soon completely lost. Thus, I can say, that I was led astray by a Baptist priest.
I continued past Liepaja and soon hit a gravel road, which ruined my comfortable speeds of 25-30 km an hour. I was back to 10-13 km/h and that set me back in my goal to reach Klaipeda. I reached the Lithuanian border and was just in the process of setting up my tripod for a photo of me in front of the border sign, when a border guard came resolutely to me. I thought that "oh, oh, now I have violated the no photo principle of border installations", when the guard smiled at me and asked if she could help me. At the end, she made the photos and her colleague joined in to stand beside me to make it more official. I continued in Lithuania and was soon in a touristic sprawl north of Palanga. I found a campground, took a shower, ate something and watched a football game. What a day.