Day 37 of my cycle journey – June 6, 2022
The first day I didn't enjoy, despite the great weather, and the easy and short ride to Lodz. The first day where I suffered from tiredness and muscle pains. The first day I felt miserable. I had over exhausted myself the day before, and now I paid the bill. After 65 km I reached Lodz and my rented apartment. I needed a rest day badly.
When I finished my tent build up the evening before it was 22:00 h and I was completely exhausted. 127 km in little less than 10 hours, including breaks. During the night my leg muscles were cramping up and even my magnesium pills wouldn't change that. When I woke up in the morning I still felt exhausted, but I had to move. Staying at the edge of the forest for another day was no option. I knew that in a couple of hours the tent would be unbearable hot in the sun. It took me ages to get my affairs sorted out, which showed that the exhaustion wasn't just physical. I finished my packing and promised myself in the next village a nice ice-cream and some caffeine containing drink to get me going again. After several kilometres the first village appeared, and I steered optimistically towards the village "Sklep" (shop). But what a disappointment the shop was closed. I continued and after 7 kilometres the village emerged, but same picture here. The only shop was closed. Suddenly a light went on in my head. I had seen in every village elaborate decorations of churches and shrines. I checked the calendar, and there it was: it was Pentecost Monday, a public holiday in Poland, no doubt.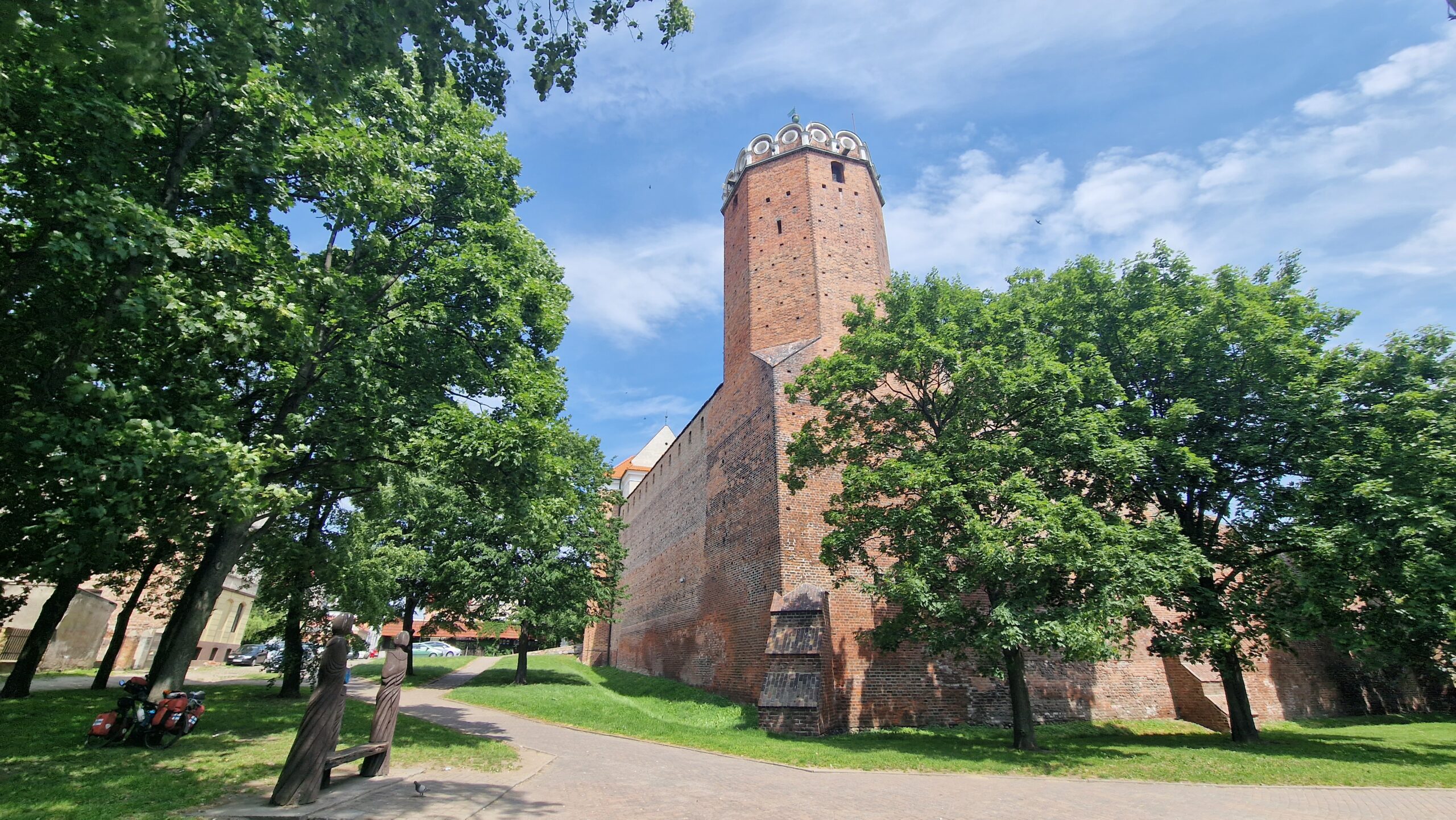 I continued without ice-cream and cold drinks and rode on through wide areas of agricultural production. This meant the wind, which was coming from the south blew frontally into my face. Everything seemed to have conspired against me. I felt frustrated, tired and in desperate need of an ice-cream. Finally, I reached a little town, where surprisingly one shop had open. A very popular shop with the Poles and me, it seemed, judging by the queue of people trying to buy something. It was almost like a miracle cure. When I had my large ice-cream and my ice-cold caffeine drink, I felt suddenly much better. My legs weren't aching so much anymore, and I got to a decent speed. Nevertheless, I decided that I need balance in the form of a rest day in Lodz. I booked an apartment for two nights. After 65 km I arrived there, tired and in absolute need of a shower. Five minutes after my arrival it started to rain very hard. Somehow there had been a silver lining on the horizon and saved me from a completely disastrous day. No more energy, I took a shower, ate something, called my loved one, drank a beer while watching a movie, and fell asleep early. A day to forget and a day, which would constitute the low of my journey so far.